High School Mentoring
Working with the Andover High School since 1995, The Service Club of Andover has provided over 800 job shadowing opportunities for high school juniors in the Career Mentoring Program. The job shadows provide high school juniors valuable experience and information on a career of their choice as they get ready to select a college and an academic major. Applications are limited. If you are an interested junior at Andover High School, please refer to the Mentor Program Application.
Each spring the Service Club awards two $1,000 scholarships student mentor participants based on individual performance and financial need.
The Service Club of Andover recruits mentors from various companies and professional offices in the Andover area. This year the Service Club of Andover and Andover High School will be approving 35 applications for the program. Acceptance criteria will be based upon the overall quality of the Essay on Career Interest, noting the student's interest in participating in the program, and the availability of a mentor in the student's area of career interest. Each student in the program spends three sessions with their mentor.
The Andover High School career mentoring program is administered through the Andover High School Guidance Department. At the end of the program each student submits a paper. Course credit is provided for participating in the program.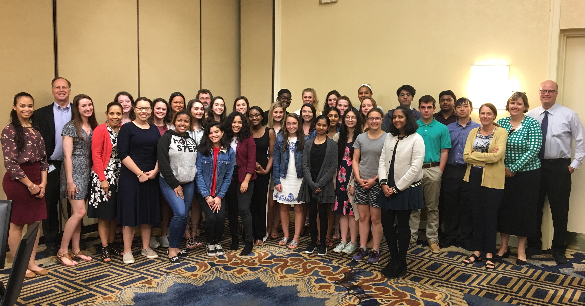 Students in the 2019 Career Mentoring Program